Biography
---
TORNA ALLA BIOGRAFIA IN ITALIANO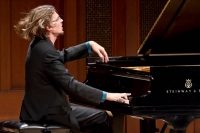 Born in Trieste, Italy, Lorenzo Cossi has been internationally acclaimed as one of the five finalists at the "Esther Honens" International Piano Competition in Calgary, Canada.
His performance of the Brahms first Piano Concerto in D minor with the Calgary Philharmonic Orchestra under the baton of Roberto Minczuk received a standing ovation. The Cincinnati Enquirer wrote "Cossi's technique and command of sonority were simply stunning. He produced lush, orchestral sounds and performed amazing feats, but always with a refined touch".
In the last year, as a collaborator of the Ensemble Resonanz Hamburg, Lorenzo played in some of the most important concert halls, such as the Berliner Philharmonie, the Hamburg "Elbphilharmonie", the Wiener Konzerthaus.
Lorenzo completed his studies at the "G. Tartini" conservatory in his hometown under the
guideance of Giuliana Gulli, sister of the beloved violinist Franco Gulli. His musical education developed also with other important artists, such as Nino Gardi, Elisso Virsaladze, Joaquìn Achùcarro, William Grant Naborè and Jerome Lowenthal.
He had the opportunity to study at the International Piano Academy "Lake Como" and the
"Accademia Chigiana" in Siena.
In 2011 he was one of the only ten pianists selected worldwide to take part to the Music Academy of the West summer Festival in Santa Barbara, California.
His repertoire ranges from the baroque era to contemporary music, with a special interest for Jazz music and improvisation (he often plays improvised encores after his recitals). Lorenzo has always been fascinated by chamber music, and had the possibility to collaborate with many important musicians such as cellists Christian Poltera, Johannes Moser and Sebastian Bertoncelj, violinists Esther Hoppe, Federico Agostini and Geoff Nuttal, clarinetist Massimiliano Miani from Slovenian Philharmonic Orchestra, flutist Walter Auer from Wiener Philharmoniker and many others.
In particular, he regularely plays with cellist Marianna Sinagra, a long-term partnership dating back to 2009.
The "Sinossi Duo" won third prize at the "V. Gui" International Chamber Music Competition in Firenze, one of the most important competitions of its kind, and recently recorded the complete Beethoven repertoire for cello and piano, under the "Onclassical" label. Next recoding projects include Brahms complete sonatas and Schumann complete works for this ensemble.
A prize winner of the "Rina Sala Gallo competition" in Monza, the "G. Pecar" competition in Gorizia and many others, Lorenzo has been twice in the finals of the prestigious International "F. Busoni" Piano competition in Bolzano. He appeared as soloist with important orchestras, such as Luxembourg Philharmonic, "J.Haydn" orchestra in Bozen, "i
Solisti Veneti" and others.
A passionate teacher, after being piano professor for three years at the "G. Paisiello" Conservatory in Taranto, Italy, Lorenzo is now a piano professor at the Gustav Mahler Privatuniversität in Klagenfurt, Austria.